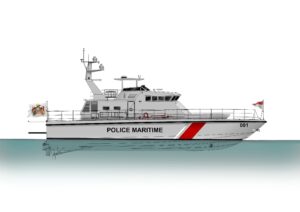 In the tender issued by Sureté Publique of the Principality of Monaco, Italian boat builder Effebi beats the French and Spanish shipyards and secures the contract for the construction of a 22 m craft for Monaco Police Maritime.
The boat, a Fast Patrol Vessel in RINA clas that will be built to Effebi's standards, will have a 22 m hull, an overall length of 23.80 m, and a width of 5.60 meters, with a full-load displacement around 60 tons. Specifically designed as a fast craft for coastal operations, it will be able to reach a speed of 32 knots and will be built in fiberglass to ensure both great lightness and resistance to mechanical stress. It will be fitted with two 1342 kW diesel engines with traditional propeller drive and two bow thrusters for easier handling during mooring as well as emergency rescue operations.
This vessel will meet all the needs the Police Maritime has to face on a daily basis, and will be equipped with a movable aft platform for rescue operations involving injured people at sea, a hydraulic firefighting system allowing to extinguish any fires on other boats, an infirmary to provide first aid and emergency assistance, as well as fully-equipped living areas for 4 crew members.
While remaining a purely military boat, reflecting a special focus on safety equipment, this vessel will feature fine finishes and implement environmentally-friendly solutions that are in line with the green philosophy adopted by the Principality of Monaco over the last few years.
Construction will last approximately two years, with delivery scheduled late in 2020.
This new project will join the one recently secured by Effebi for Guardia di Finanza, the Italian Tax Police, which the Italian shipyard will deliver at the end of October 2020, with an option for 6 additional units.
"At a time still characterized by great uncertainty, Effebi has been able to secure a  promising order portfolio, allowing to hope for a brighter future for the boating industry", proudly states Katia Balducci. "We are going to work on these new contracts with great professionalism and a strong sense of responsibility, and we will try to turn the usually very basic military crafts into more comfortable, while equally efficient, vessels".
The crafts are going to be built at the Carrara Avenza site.
Effebi was established in 1983 by the Balducci family, who are still running the company today. It specializes in the construction of boats ranging between 15 and 50 meters in length and operates in the merchant and military sectors under the Effebi brand and in the recreational boating industry with the Mangusta, Mangusta Oceano and Mangusta Gransport brands.
The Company can rely on several production sites in Massarosa, Massa, and Carrara Avenza, totaling an overall surface of approximately 72,500 square meters, including sheltered and open areas. Since the very beginning of its activity, Effebi has constantly invested in research, aiming to increase safety and working conditions at the workplace, and is certified to standards ISO 9001:2015 e ISO 140001:2015.
www.effebivtr.it