Effebi, the Italian boat builder specializing in the military sector, will be taking part in Seafuture 2023 (La Spezia Naval Base, 5-8 June). Effebi, who can boast almost 40 years' experience in the construction of vessels up to 50 metres in length and is renowned for the outstanding flexibility it offers to clients, will be present at the event with a stand (A32) and an 8-metre hybrid-propulsion boat on display in the DOCK area.
This 8-metre hybrid-propulsion motor patrol boat has been built forthe Italian Tax Police, Guardia di Finanza, to perform patrolling activities and public service operations – accessible via toll-free number 117 – in the Venice lagoon and in Italian inland waters. 2 patrol boats of this kind have been delivered so far, with 19 more units already on the order book.
"We decided to take part in Seafuture since its very first edition because this is a crucial, strategic event, attended by the Italian Navy and by military delegations from around the world. Over the last few years we have delivered very different boats, serving a wide range of purposes – a versatility that reflects the excellent work done by our whole team" says Effebi's Managing Director Katia Balducci.
The boat on display at Seafuture is 8 metres long, 2.45 metres wide, and has a maximum height of 1.80 metres. Her limited size and excellent manoeuvrability are ideal to operate in the lagoon, an area characterised by considerable tidal ranges, shallow waters, and limited heights. Her outer lines are slender and stylish, and the interior cabin offers a high level of comfort in terms of noiselessness, comfortable driving position, and other important features. It has indeed been designed according to the principles of ergonomics to deliver maximum functionality and reliability, as required for this type of crafts. Moreover, special solutions are in place to absorb any shocks deriving from boarding operations and to withstand the constant friction and stress caused by wooden dolphins, or briccole, the groups of pilings typically used in the Venice area for docking purposes.
Equipped with radar, magnetic compass, electronic compass, DGPS, echo sounder, infrared camera, and radio equipment compliant to the standards required by Guardia di Finanza to be able to communicate with the other Corps units, this craft fully meets the operational needs of the Tax Police's day-to-day activity in challenging and vulnerable environments like the Venetian lagoon, lakes and canals. This patrol boat can reach a maximum speed of 37 knots in endothermic mode and 7 knots in electric mode, powered by lithium batteries that ensure a range of up to 8 hours.
Over the last few years Effebi has delivered two hybrid-propulsion 8-metre-long boats to Guardia di Finanza, a 22-metre craft to Monaco's Police Maritime, a 44-metre fast patrol vessel to Guardia di Finanza, and a 16-metre interceptor, also for Guardia di Finanza, with more units to be built in the near future.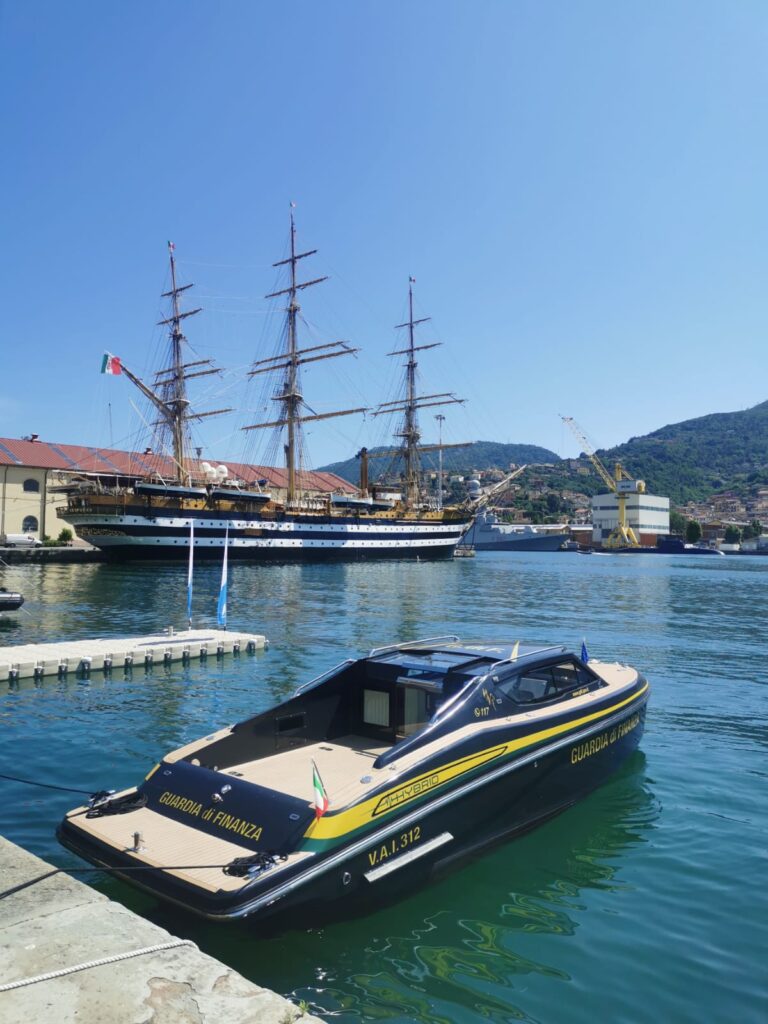 Effebi was established in 1983 by the Balducci family, who keep running the business to this day. The Company is currently an undisputed international leader in the naval sector thanks to the use of advanced technologies for the processing of fibreglass and other composite materials. It specialises in boats between 15 and 50 metres in length for the merchant and military sectors under the Effebi brand, and in recreational yachts under the well-known brand Mangusta, Mangusta Oceano and Mangusta GranSport.
Effebi can rely on several shipyards in Tuscany, in Massarosa, Massa and Carrara-Avenza, totalling 72,500 sq. m including both indoor and outdoor areas and still growing. All sites are fitted with cutting-edge systems and equipment allowing to deliver world-class products.
"Ours is a family-run business, based on strong values and long-standing traditions and capable of looking forward responsibly and professionally. Every manufacturing stage takes place in house, from design to composite lamination, to the assembly of electrical components. This means high flexibility, which is key to meet the specific needs of every single Client", continues Katia Balducci.
The Company has chosen to consider every boat as a separate project, having its own features – an approach that is a far cry from mass production. It can also rely on highly qualified personnel, capable of supporting the Client in the selection of the best technical solution and making sure that every construction phase is carefully controlled, so as to deliver a truly high-quality product: from design and the mathematical modelling of wooden or milled models to the construction stages that eventually result in the finished product:
moulding, lamination and/or infusion, assembly of individual components and the body. The entire manufacturing process is subject to strict quality control, to ensure the best standards required by the various International Classification Bodies and, above all, to achieve maximum customer satisfaction – always with a strong focus on environmental friendliness.
Effebi has always invested in research to protect the environment and increase safety at the workplace. It is recognised and certified by all registers of shipping (RINA, Lloyd's Register, Bureau Veritas, American Bureau of Shipping) and has aligned its manufacturing process to the Lloyd Register's Quality Control requirements. It has also been certified to standards ISO 9001:2015 and ISO 14001:2015
www.effebivtr.it
Facebook – Effebi _The Italian Shipyard
Linkedin – Effebispa
Youtube – https://www.youtube.com/@effebispa9934
Per ulteriori informazioni:
Ufficio Stampa Effebi Spa – Arianna Toscano toscano@mangustayachts.com