Effebi delivered the first interceptor built for Guardia di Finanza (the Italian Financial Police) at Bari Naval Station, the 20th May 2022, in the presence of Guardia di Finanza's Commander General, Army Corps
General Giuseppe Zafarana, and Divisional General Francesco Mattana. After a hybrid patrol boat for internal waters and a 44-metre Fast Patrol Boat, this is the third unit the boat builder has delivered to the Italian Financial Police since securing the tender launched by Guardia di Finanza in 2021.
"Effebi can currently boast a robust, diversified order backlog in a demanding sector like the military one", says CEO Katia Balducci. "We have relied on our professionalism and done our utmost to meet the needs of our institutional clients at best, delivering them outstanding products characterised by a special focus
on environmental friendliness, functionality, maximum comfort in all working areas, and – it goes without saying – safety. We spared no effort to deliver all three lines within set deadlines, in spite of the difficulties arisen over the last couple of years both because of the pandemic and in terms of materials procurement",
adds Katia Balducci.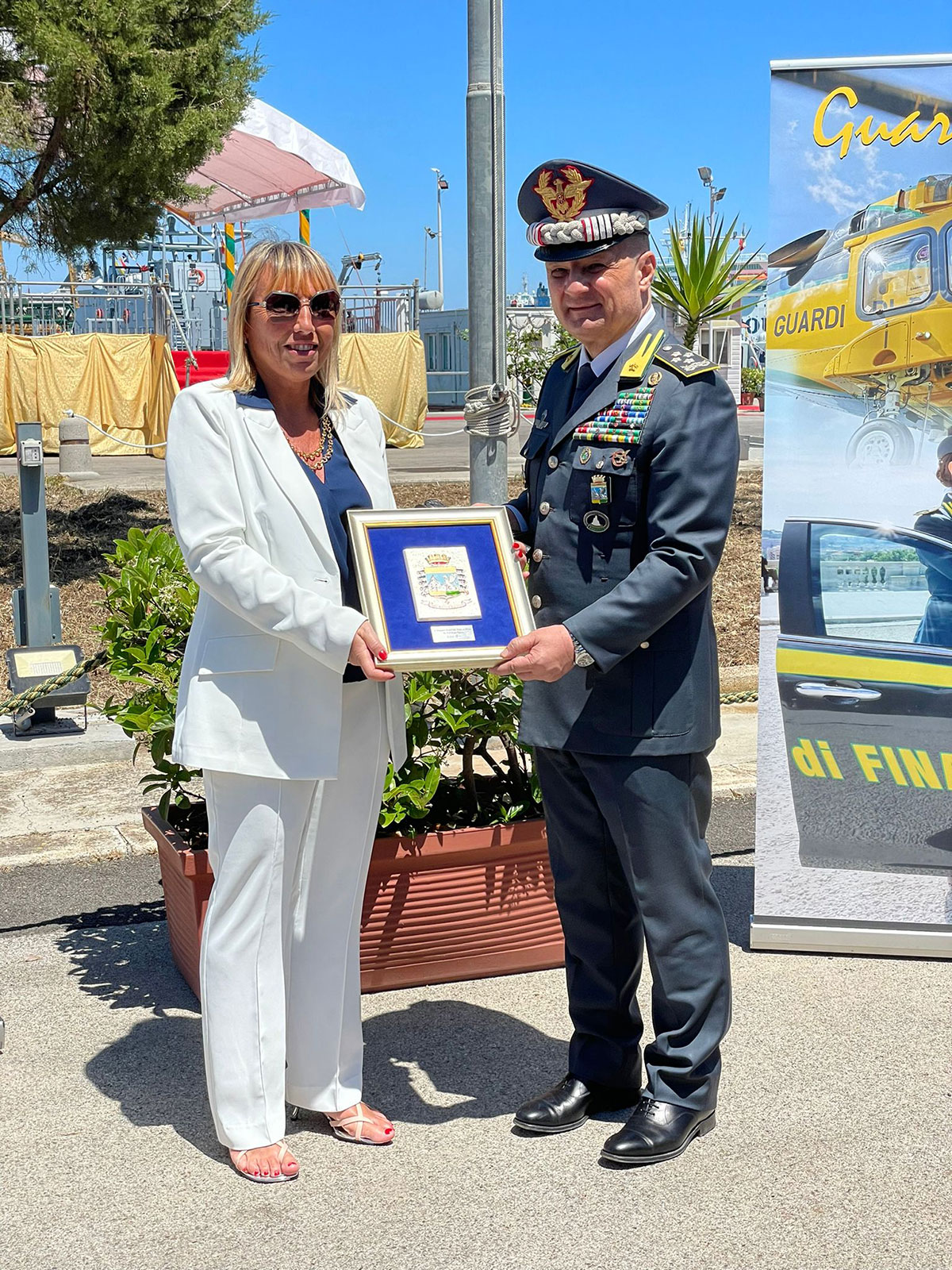 This type of craft is unprecedented in Guardia di Finanza's fleet. The Italian Financial Police specifically asked for a boat that would allow to carry out police operations in particularly choppy seas, to effectively combat illegal trafficking by super-fast boats and strengthen its role as the only police corps operating at
sea.
The boat has been built in composite material. It is 16.5 m long and 3.5 m wide, and will be able to reach a maximum speed of 68 knots thanks to 4 Mercury Mercruiser 436 HP inboard-outboard engines and 4 Bravo One stern drives. Its uniquely shaped hull will deliver outstanding steering control and excellent
stability and seakeeping features, even at maximum speed and in all sea conditions.
The exclusive naval platform will result in extremely high performances for the off-shore sector.
Equipped with cutting-edge navigation, telecommunication, and discovery systems, this interceptor will ensure excellent connection with the Corps Operation centres via phone, radio and satellite networks.
This patrol boat's size and manoeuvrability are well-suited for chasing and boarding operations with a 4-member crew; the craft has a full-load displacement of 10.5 t and a range of 460 nautical miles at a cruising speed of 35 knots.
Its streamlined, rakish profile is complemented by a particularly high-performing hull, built to RINA standards. The boat is fitted with radar, magnetic compass, electronic compass, DGPS, echo sounder, infrared thermal camera, and radio equipment to meet Guardia di Finanza's applicable standards.